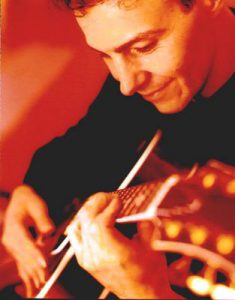 BIOGRAPHY
Antonio Koudele born in Vienna, Austria.
His grandfather being a violinmaker and his father a pianist, Antonio has the advantage being brought up around music. At age seven he discovers his love for the guitar. Vocally gifted with a clear intonation and flexibility in range, Antonio's voice and instrument harmonize inseparably.
In 1975, still a teenager, he establishes his first contact with the American GIs jazz, funk and blues musicians. During his studies from 1978 until 1982 at the Richard Strauss Conservatory, he works as a studio, TV/Radio and live musician, as well as a guitarist for Broadway musicals.
In 1980 Antonio forms the "Fresh Air" band and performs in numerous successful concerts, radio and TV appearances. During the years 1981-84 he records two LPs with "Fresh Air". The "International Men" LP makes the "International Best List" in 1984.
During the following years, classical guitar takes front stage for Antonio as he performs in concerts and on records with state and radio orchestras under reputed conductors such as Sir Neville Marriner, Sir Colin Davis, Carl Davis, Charles Prince, Lorin Maazel, Lalo Shifrin and many others.
He works with artists like Luciano Pavarotti, Dee Dee Bridgewater, Gloria Gaynor and many others.
After he is encouraged by none other than George Benson to form his own band again, Antonio Koudele forms the "Grupo de Bossa Nova" in 1988.
Jazz Festivals and TV live broadcastings follow. The CD "Bird Fly!" 1994/A.C.S.Records and 1999/BSCMusic makes the top list of the "Jazz Parade" for threee months. The CD "Kaleidoscope"1997/BSCMusic lifts the boundaries between musical styles.
1999 Antonio establishes his own record label "A.C.S.Records
In 2000/2001 he produces and releases his CD, "Emotions"/BSCMusic, which shows the romantic side of the composer and artist Antonio Koudele.
Beginning of the year 2005 Antonio visits Cuba. Impressed by the music, people and culture, he decides to produce his new CD on the island of Salsa, Son, Danzon, Rumba, ChaChaCha, Casino, Bollero. After several more trips to Cuba and after 1 year of preparation, accompanied by some adventures and nice experiences (which inspired the title of the CD), in summer 2007 Antonio presents his new Album CD Antonio Koudele & Aventura Cubana! on A.C.S.Records Label.
Latest CD releases:
2007 erscheint die CD "Aventura Cubana"
2009 erscheint das Ausnahmealbum "Antonio Koudele-Harp Guitar" -2010 erscheint das Album "Instrumental Y Cubana"
2012 "A La Manera Cubana" Produziert in Havanna/Cuba. Mix/Mastering at A.C.S. Records/München
2015 "Harp Guitar Goes Brazil – Instrumental Album/Latin
2018 "Arriving" – Instrumental Album World Music